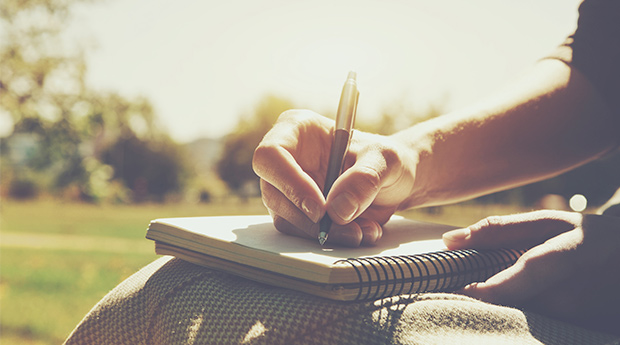 I was once told by a very wise woman never to trust my memory. Speaking of course about the inability that we sometimes face in recalling the events of the past, she was also teaching me indirectly to capture insights when they arise in the mind. Appearing to each of us at one time or another, these jewels of consciousness are often what we allow to slip from our awareness when we do not live consciously and attentively. For so many of us, we are perpetually looking forward to what tomorrow might bring, and reacting to these possibilities in the present. Having also a laundry list of things that we must do at any one time, we are reluctant to take time out to process our experience of life, and contemplate its meaning and lessons.
Some time ago, I was talking to a very good friend of mine who expressed that for many years he had been engaged in the practice of journaling. Travelling to many different places around the world, his initial motivation to complete his daily pages was to record the details of his journey. Within a short amount of time however, what he found himself doing was transcribing his thoughts and feelings in these new and evolving moments he was experiencing. Preferring not to settle for taking photos of the locations that he visited, his focus was one that was directed inwards, in the process of engaging his mind and heart with the words that moved from his pen to the pages of his memoir.
Becoming a habit in my friend's life, he continued to practice this journaling when he returned from his travels abroad. Revealing much about the depth of his experience, it also provided much food for reflection. Providing an insight into the workings of his mind and the dimensions of his spirit, he was able to learn much about who he was beyond the surface appearance of things. Quieting the voice of his overstimulated mind to articulate his deeper thoughts, feelings and intentions, he found that the waves of chaotic mental chatter would subside to present him with priceless treasures that he didn't know existed inside of him.
Teaching me of this wisdom, I was inspired to connect to the voice of my own truth. Starting the journey as he once had, I quickly came to learn the power that comes when we open ourselves up for the purpose of self-exploration. Being a task that we have all been charged with, the growth that we experience by our willingness to forego the fear of looking at ourselves in the light of day is truly worth the effort. Connecting us with spirit, which is the great teacher in our lives, we benefit from more than just knowledge, which is collected externally, and comes to form the content of our life in the physical world. Providing the context which frames the content in its purest light is wisdom, which emerges not from the mind as knowledge will, but from the heart, being the expansive classroom that we enter when we consent to undergo the process of personal transformation.
What you are reading here is the result of my many years of personal exploration. Learning these lessons in reflective solitude and out in the world, their profound power was made manifest not only in applying them through action, but in writing them down as they came to me from the wellspring of spirit that is ever clear in what it conveys in moments that we remain non-resistant to its offerings. Why so many of us continue to make the same mistakes in life is because we are unwilling to learn the lessons that our lived experiences carry. Thinking that we know better than the universal source of wisdom which prompts us to growth, we become righteous, rigid and restless within ourselves.
Absent of the peace that is realised in spiritual reconciliation, we must humbly admit to ourselves that the mind alone doesn't have all the answers to life's questions, and trying to solve our problems with our limited thinking, and the fragile beliefs that underpin it, is itself the problem. Einstein acknowledged as much when he said that, "We cannot solve our problems with the same level of thinking that created them". To heal the mind of its misconceptions, we must explore it with courage and an openness to rewriting our scripts. It is difficult to confront our neuroses and all of the suffering that they have caused in our life. Living in a society which largely favours denial over truth, we have been strongly conditioned to run from our fears and other broken thoughts, rather than towards them. Being one of the many ways that the ego perpetuates suffering, the spirit asks us to take a more integral path. By confronting our brokenness, we come to make sense of the carnage and regain control over the fears that these happenings have birthed. Choosing to run away from them, we give them oxygen and a greater stage on which their shadow can loom larger than before.